The undisputed champion ale in Brittan is produced in the Black Country by
Daniel Bathams & Sons Ltd
. This may be considered a provocative remark but even fans of
Enville
will admit defeat when put to the test.
I first experienced this brew in Kinver at the
Plough and Harrow
(known locally as
The Steps)
whilst on a hired narrowboat with Dave the Rave and Ron
from
Tollemache
country about 20 years ago and abstinence has made the heart grow fonder. It's one of those ales that is so good you want to keep it to yourself. This is assisted by the brewery who have never shown an inclination to flood the country or adorn the shelves of Tesco - both routes to ignominy.
They produce two ales all year and one extra at Xmas.
They have eleven tied houses;
Eighteen freee houses serve their ales
Two breweries resell the products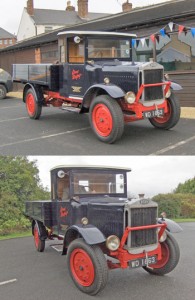 The restored 1931 lorry
They also have one of only three existing
Bean
lorries from 1931 which they bought at auction in 2009 and have restored to the Bathams livery.It is on display at
The Lamp
pub in Dudley.
Bean produced cars and lorries in Tipton and Dudley and Bathams original vehicle from 1930 is now in the
Black Country Living Museum.
Bathams original Type W 30cwt lorry
We are moored in Kinver again and will be revisiting
The Steps
asap.