Gecko was our home for twelve years whilst we cruised the inland waterways. Now we live ashore.
Sunday, 7 February 2016
Monday February 8th is the first day of the
in the Lunar Calendar
So today is New Year's Eve and there are things you
must do
and
not do
DO THESE THINGS
Clean the house thoroughly on Sunday, New Year's Eve, A clean home means sweeping away any misfortunes to make room for a fresh, ordered start to the New Year.

Look out if you're a monkey. According to Chinese philosophy, those born with the same zodiac sign as the year's designated animal are going to have a particularly difficult year. Those born in the Year of the Monkey – 1908, 1920, 1932, 1944, 1956, 1968, 1980, 1992 and 2004 – are urged to lie low.

Decorate your home with red lanterns and the "Fu" or luck character.

Come together as a family, traveling home to relatives, especially for a reunion dinner on New Year's Eve.

Eat fish, which is essential to the reunion feast. The words for carp sound like "good luck" and "gift". Place the head in the direction of the most distinguished or oldest guest, who eats first, then utter the lucky saying "Niannian you yu". Homophones or "puns" explain the choice of many New Year foods, said Cao Yin, curator of Chinese art at the Art Gallery of NSW. Spring rolls resemble gold bars. Tangerines stand for success and pomelos bring wealth. Celery (for wisdom), plums (for a sharp mind), chicken (with the head and feet attached), steamed buns (piled high), lettuce (for being alive) and sweets (for a sweet year) are also customary. Dumplings, or "jiaozi", resemble old Chinese currency, while long noodles and peaches symbolise longevity. "Niangao" or steamed rice cakes, are a southern delicacy, "gao" meaning "high", as in to make better or improve.

Paste spring festival couplets around your front door, calling for blessings on the home and land. Written on red paper in black or gold calligraphy, the scrolls must have parallel structures and antithetical meanings, such as: "丹凤呈祥龙献瑞 Dragon and phoenix bring the prosperity / 红桃贺岁杏迎春 Peach and apricot blossoms welcome the spring / 福满人间 Blessing on the Land".

Wear new clothes. Out with the old, in with the new – particularly if they are bright, happy colours. Red symbolises prosperity, so monkeys are advised to wear red (underwear included) to up their good fortune quotients.

Give red envelopes, or "hongbao" stuffed with money. Ms Cumines said that married people are expected to give the packets, often containing coins, but more regularly, notes, too, to children.

Set off firecrackers to drive away evil spirits. This, from a former Shanghai resident: "There are so many fireworks – professional grade, being lit at street level with no mortar - that it snows ash, constantly. You can spot the locals because they're either lighting the fireworks or running down the sidewalk, with helmets and goggles on, ducking and diving as if they were on sniper alley."

Move slippers and shoes indoors before going to bed, to protect them from the thieving hands of evil spirits.

See a dragon or lion dance and pray for the year ahead at the temple.

Settle debts by New Year. Fresh starts are no time to be beholden to others.
DON'T DO THESE THINGS
Buy new shoes until after day 15 so as to avoid rough seas in the year ahead. Another homophone, shoe, or "hai", sounds like "rough".
Eat congee or rice porridge on New Year morning. It symbolises poverty. "Congee is mainly water boiled with rice, it can be seen as a poor man's food.
Wear white or black, which are traditional colours of mourning.
Buy, give or do four of anything. The word for four has the misfortune of sounding like the word for death.
Use sharp objects in the three days or so of the New Year.

Give sharp objects, scissors and knives as presents. In fact, gift no-nos extend well beyond things that cut, to include shoes, handkerchiefs, umbrellas, clocks, pears, cut flowers, black or white objects or mirrors.

Sweep the house on New Year's Day, so as to avoid sweeping away good fortune.

Swear and use foul or negative language or talk about death, ghosts and the past year. Now is a time to be positive and look ahead, not at times gone by.

Take medicine or break any household objects over the holiday. Illness or harm done during the festive season are believed to cast negativity on the year ahead.

Wake family up or use their name to wake them on New Year's Day for fear of rendering them bedridden and lazy all year.

Go outside on Scarlet Dog Day. Traditionally – and very rarely nowadays – the superstitious avoid leaving the house on day three so as not to encounter the god of anger.

Wash hair or visit the hairdresser, so as to not wash or trim all that freshly accumulated luck away.

Allow babies to cry on New Year's Day. The sound is believed to bring bad luck, so infants are fastidiously placated.

Beg in any way. Bad habits forged in the New Year set the tone for the entire year.
Saturday, 6 February 2016
If you were born between these dates, you are a Monkey in the Chinese Zodiac
| | | |
| --- | --- | --- |
| Monkey Year | Start | End |
| 2016 | February 8, 2016 | January 27, 2017 |
| 2004 | January 22, 2004 | February 8, 2005 |
| 1992 | February 4, 1992 | January 22, 1993 |
| 1980 | February 16, 1980 | February 4, 1981 |
| 1968 | January 30, 1968 | February 16, 1969 |
| 1956 | February 12, 1956 | January 30, 1957 |
| 1944 | January 25, 1944 | February 12, 1945 |
| 1932 | February 6, 1932 | January 25, 1933 |
| 1920 | February 20, 1920 | February 7, 1921 |
| 1908 | February 2, 1908 | January 21, 1909 |
The Lucky and Unlucky Things for "Monkeys"
Lucky numbers: 4 and 9
Lucky days: the 14th and 28th of any Chinese lunar calendar month
Lucky colors: white, blue, gold
Lucky flowers: chrysanthemum, crape-myrtle
Lucky directions: north, northwest, west
Lucky months: Chinese lunar months 8 and 12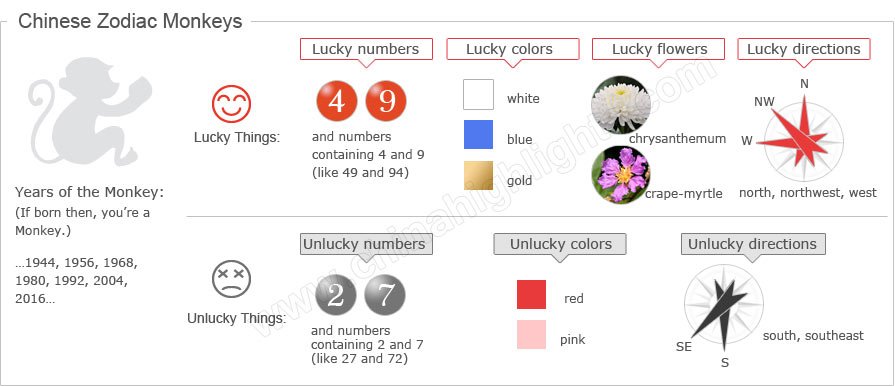 The Unlucky Things That "Monkeys" Should Avoid
Unlucky colors: red, pink
Unlucky numbers: 2 and 7
Unlucky directions: south, southeast
Unlucky months: Chinese lunar months 7 and 11
Monkeys' Fortune, Career, Health, and Love Prospects in 2016
Everything points to disaster for Monkeys in this Monkey Year. Those who will be 12, 24, 36, etc., this zodiac year watch out! However, you can turn misfortune to fortune by seeking the blessing of lucky stars.
2016 — an Unlucky Year for Monkeys?
2016 is a Monkey year. Monkey years are believed to be an unlucky for people born in a year of the Monkey. A year of one's birth sign is believed to be the most unlucky in the 12-year cycle. "Monkeys" (who take Chinese astrology seriously) are particularly careful about their health, love lives, career, and investments in Monkey years. Read more suggestions on
How to Be Lucky in the Year of Your Birth Sign.
Career: Maybe Prosperous, if...
Monkeys can have prosperous careers in 2016,
if
correctly aligned with the Tai Sui star. They will be able to make breakthroughs,
if
they focus on their career and discipline themselves. If not, they will hardly achieve anything. They should
guard against
untrustworthy people and discipline themselves in order to avoid trouble. The
luckiest months
for them will be the second, fifth, and twelfth Chinese lunar months, during which they should seize opportunities instead of missing them.
A Year of Money for Monkeys?
Great unexpected fortune
will find its way to Monkeys in 2016, so they will not have to worry about food and clothes.
The best months
for them to make their fortune will be the second and twelfth Chinese lunar months, during which they should make full use of their time to invest and cash in. They should
avoid
gambling, speculating, and collecting illegal or greedy gains, or they will lose everything they have, especially in the third Chinese lunar month. They should also guard against becoming poor due to greed. Monkeys should not show off their wealth, or they will be persecuted by others.
A Year of Health Risks, Especially Traffic Accidents
Monkeys will suffer from minor illnesses; however, they will not come to much harm if they are careful. If they take their medicine, the symptoms will lessen.
They should
be aware of traffic safety as they go about their daily routine, and never take risks. Great attention should also be paid to food safety to ensure illness is avoided. Their
health horoscope
is never above neutral, but worst in the fourth and tenth Chinese lunar months.
Monkeys may have difficulty in relationships in 2016.
Monkeys' relationships will be
rather colorless
in 2016. The more they long for a relationship, the harder it will be for them to get one. They may encounter a romantic relationship if it happens naturally, especially in the seventh and twelfth Chinese lunar months. They will have a happy ending if they seize the right opportunities.
The Monkey's Traits: Sharp, Smart...
People born in a year of the Monkey are witty, intelligent, and have a magnetic personality. Personality traits, like mischievousness, curiosity, and cleverness, make them
very naughty
. Monkeys are masters of practical jokes, because they like playing most of the time. Though they don't have any bad intentions, their pranks sometimes hurt the feelings of others. Monkeys are
fast learners and crafty
opportunists.
They have many interests and need partners who are capable of stimulating them. While some like the eccentric nature of Monkeys, some don't trust their sly, restless, and inquisitive nature. Although they are clever and creative, monkeys can't always exhibit their talent properly. Monkeys like to take challenges and they prefer urban life to rural.
How "Monkeys" Should Keep Healthy
Usually Monkeys are very healthy, partly due to their active lifestyles, and wanting to experience the flavors of life. If they do experience illness, it is usually of the nervous or circulatory system. People born in a year of the Monkey often spend more time at work. Therefore Monkeys need to remember to take breaks to save their energy during their busy schedules. Since Monkeys usually do more outdoor activities, they should pay attention to safety, and while traveling or driving.
The Best Jobs and Careers for Monkeys
When it comes to their careers, Monkeys work very hard. They can adapt to different working environments. Good career choices for monkeys are accounting and banking, science, engineering, stock market trading, air traffic control, film directing, jewelry, and salesmanship.
How to Build Relationships with "Monkeys"
In relationships, Monkeys are not very quick in settling down, as they tend to be promiscuous and are easily bored. However, once Monkeys get a perfect partner, they commit to him/her in every possible way. Since Monkeys love to talk and are sociable, they can be communicated with easily.
Love Compatibility: Is She/He Compatible with You?
Love compatibility within the Chinese zodiac takes into account the unique characteristics of each animal. Only those whose characteristics match each other well can be good partners. See below the compatibility of the Monkey with other animals.
Best with: Ox or Rabbit
Worst with: Tiger or Pig